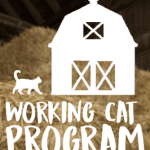 WORKING CAT SPAY/NEUTER 
Please contact Sanilac County Humane Society's Carsonville office (810.657.8962) to have the outdoor cat(s), not a house pet, added to our working cat spay/neuter waiting list. After receiving a return call from our program director with your appointment date, please complete the agreement form below, print and bring it with payment (cash, check (payable to SCHS) or debit or credit card) on the day of surgery.
It is $40 per cat, and they will receive a 1-year rabies vaccine, an antibiotic shot, and their left ear will be tipped a quarter of an inch.
Working Cat Program Agreement Form 2020
Working Cat Program has NO county-line boundaries.