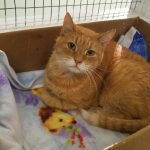 Sanilac County Humane Society (SCHS) is a private nonprofit, federal and state tax exempt 501c3 no kill institution run by volunteers and public donations. Our mission is to provide shelter and medical care and find new homes for homeless pets, as well as reduce the number of homeless cats and dogs through our spay/neuter programs.
SCHS was founded in 1996 as a nonprofit state and federal tax exempt group. We are a no kill shelter operating on donations. Initially animals were cared for in volunteers' homes, however a building was purchased in 2000. Renovations were made and the building was opened in August 2003. Schedules, policies, and guidelines were established to keep the shelter running smoothly 365 days of the year. Every day volunteers feed, water and care for numerous dogs and cats with morning and evening teams. In 2018, we found forever homes for 188 cats and 131 dogs!
SCHS benefits the community with the annual by donation vaccination clinic. Each week shelter animals are spayed/neutered and prepared for adoption. In 2018, 214 animals from our shelter were altered and 338 stray/barn cats were altered and released to their capture locations. In 2017, we vaccinated 326 animals during our by donation vaccination clinic!
We seek sponsors for our popular animal adoption ad in "The Jeffersonian" and "Sanilac County News"; to expose the public to our animals and our shelter in the local press.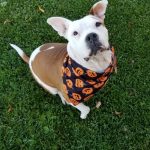 As more volunteers join us, we brainstorm on fundraising and other means of seeking funds and donations from the community, since we are not supported by any federal, state or county agency, or any state or national humane organization. We participate in community affairs offering information about our animal rescue efforts and about responsible pet ownership.
Although we have many supporters and sympathizers, we have only very few active volunteers willing to regularly work with the rescued pets and take care of their needs. Our two constant, greatest needs are volunteers and donations. Without them, our efforts to rescue homeless animals cannot continue.