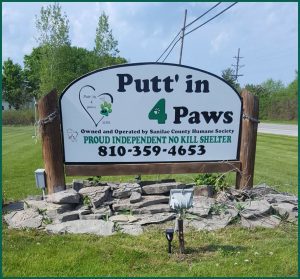 Putt' in 4 Paws is open all year around. 
Gift Certificates Available! 
Summer Hours – As of May 21, 2018:
Sunday thru Thursday: 7:00 AM – 7:00 PM
Friday & Saturday:  7:00 AM – 9:00 PM
We have ice cream, Slushies, coffee, doughnuts, hot cider, tea, vanilla cappuccino, English toffee cappuccino & hot chocolate.
All money will be used to care for the animals!
Contact Information
Address: 6010 Lakeshore Rd, Lexington, MI 48450
Phone: (810) 359-4653