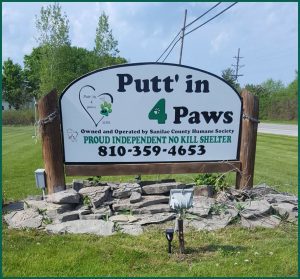 Putt'in 4 Paws miniature golf course is closed until the 2021 Summer Season!   
Gift Certificates Available! 
Miniature Golf & Driving Range Hours —
watch here for the 2021 season hours of operation!
COFFEE SHOP & ICE CREAM 
Hours are the same as those for golf.
All money will be used to care for the animals!
Contact Information
Address: 6010 Lakeshore Rd, Lexington, MI 48450
Phone: (810) 359-4653