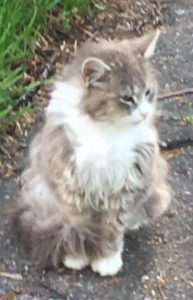 They call me Fuzzy, Mr. Fuzzy. At least that's a word I hear often when they talk to me. That and "it's ok". See, I was found on the streets of Bad Axe. This inside thing is new to me and I'm scared. I came in with my long luxurious hair all in knots. It was tight and uncomfortable but I took a nap and when I woke up they were gone. Along with all of my hair so I'm all sorts of confused. I think I look silly, but everyone says it looks sweet. If you have it in your heart to give a scared but nice street kitty a second chance, stop by the shelter and meet me.
Please call the shelter at 810-657-8962 for more information. Please email the shelter at societypets@att.net or visit us at sanilaccountyhumanesociety.org for an application.
All our cats are fixed, micro-chipped, up to date on all age appropriate vaccinations, de-wormed, treated for and on flea preventative, as well as tested for Feline Leukemia and Feline Immunodeficiency Virus.
WE DO NOT DNA TEST – ALL OF OUR PETS ARE MIXED BREEDS AND WILL LOVE YOU JUST AS MUCH!
The adoption fee for this cat is $100.00