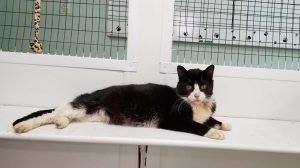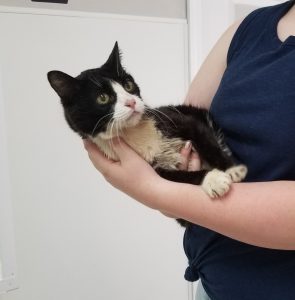 Hello, my name is Sweetie and I'm here to tell you my story. I was found wondering backcountry roads and my rescuers had to earn my trust but soon I jumped into the car with them and was on my way to the shelter. When I got to the shelter I was covered in a thick layer of dirt and cooking oil and was underweight. I was given a nice meal and all the water I could drink (I was also very dehydrated) and soon it was time to clean me up. That's when my rescuers realized how thick the oil was all over my body and a simple bath would not work. After a week or two of regular meals and brushing (baths were too stressful for me), I started to look and feel better but life had to throw me one last obstacle. I got an upper respiratory infection and stopped eating and I became extremely weak. I was under close watch and medical care and there were times the shelter workers were scared my old body would never be able to recover. But even at 10 years old, I'm a fighter. After weeks of intensive care and TLC, I was back to ruling over the cattery. The vet believes that I got so sick because I may be diabetic and my sugar dropped too low. They say I need someone to make sure I eat, which when I am feeling well is no problem at all!! I know this was kinda long but to understand me you need to understand my story. I will never be the cleanest cat (there is still oil residue on my fur in places that no baths or brush will take off), I like to lounge on the ground like I'm a Queen, I want someone to love me like I deserved to be loved (I haven't had that in a while), and I need a nice relaxing home to live out the rest of my days. You may be able to find a younger cuter cat but you will never find a cat that will give you the love and appreciation I can. I have known hunger, pain, and fear but when my time comes I want the last thing I experience to be love.
Please contact the shelter at 810-657-8962 for more information. Email the shelter at societypets@att.net or visit us at sanilaccountyhumanesociety.org for an application to adopt.
All of our cats are fixed, up to date on all age appropriate vaccinations, de-wormed, treated for fleas and placed on a flea preventative, as well as tested for Feline Leukemia and Feline Immunodeficiency Virus.
WE DO NOT DNA TEST – ALL OF OUR PETS ARE MIXED BREEDS AND WILL LOVE YOU JUST AS MUCH!
The adoption fee for this senior is $80.00